Make a Donation.
Torah for the Nations Noahide Center runs on the generosity from interested and committed people just like you.
Our days are spent talking to the many non-Jewish tourists who come through this spiritual city from all over the world. We also answer questions from many Israelis wanting to know what the connection is between The Israelites and the other nations.
We  meet on line with home groups, individuals and families around the world to teach and answer questions.
We'd like everyone to know how much we appreciate working with you and how grateful we are for your support in this endeavor which is truly the "call of the hour".
Shira enjoys making crocheted rainbow spreads which make fun conversation pieces to get the word out about the seven laws of Noah. The hand-made colorful spreads are done in a very "basic" crochet stitch which represents the "basic" laws for all mankind.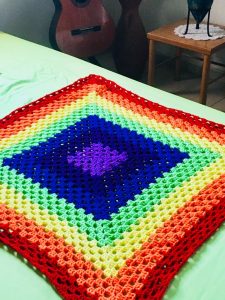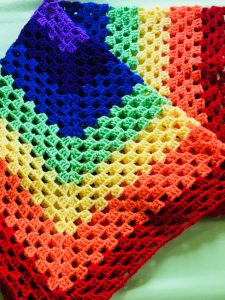 They are done in seven colors, each color representing one of the seven basic laws. She is offering to give one of her hand-made spreads to all full-day sponsors who commit to three months, one day each month. The plan is for you to have a rainbow spread in time for Parsha Noach so you too can help "spread" the universal message of the seven laws for world peace.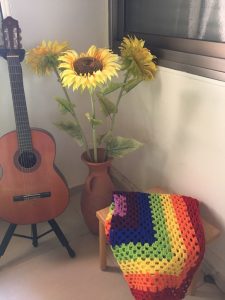 Our operating expenses are $3100 per month. Choose which day each month you want to sponsor. It will be listed in your name or you can dedicate it to the memory of a loved one. Please help us get the calendar filled by sponsoring either a full -day of operation ($100), a half-day ($50) or a quarter day ($25). The money covers the use of the space, printing pamphlets, operating expenses and helping needy families in the community
Please commit to a monthly amount.